Events Tabs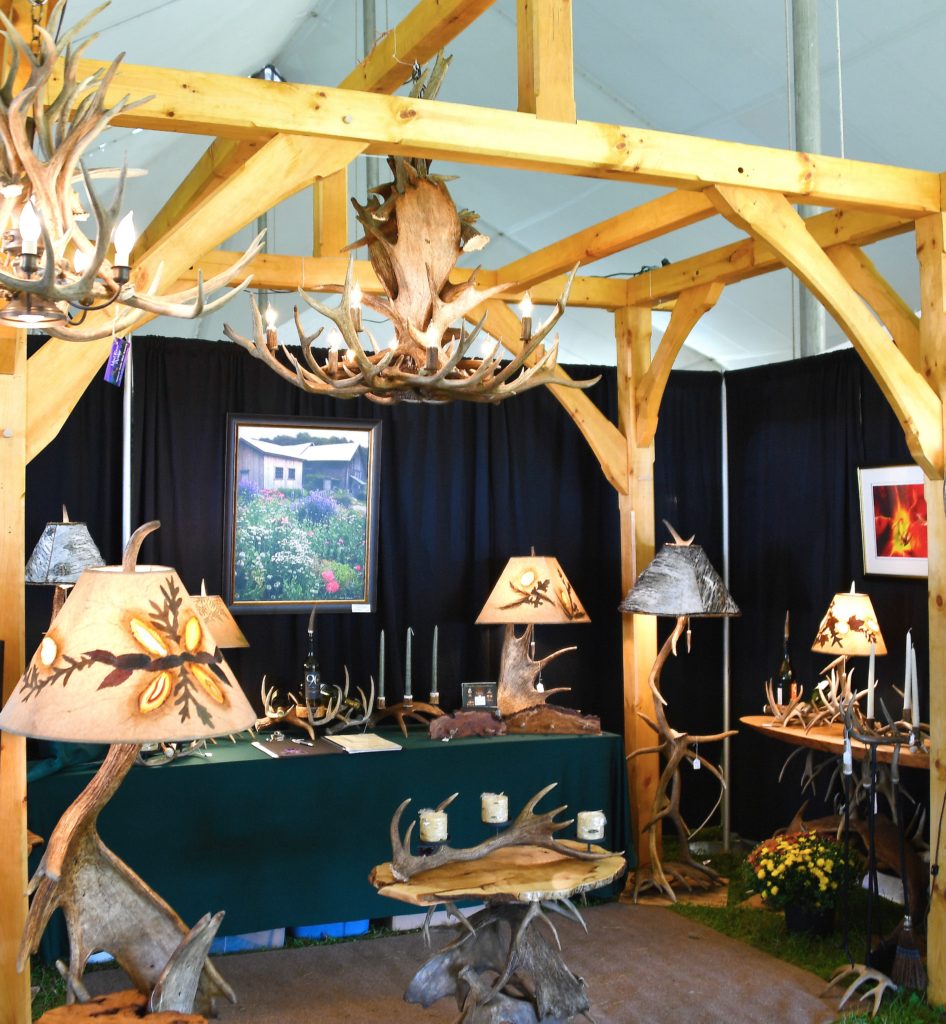 Once again I'll be showcasing my real antler art at TopNotch Field in Stowe, Columbus weekend. Truly one one of the best shows in Vermont and the foliage is beautiful.
Save the dates: Friday – Sunday, October 6 – 8, 10am – 5pm.
I'll be in my regular location and look forward to seeing and discussing your custom projects.
Come out and make it a day at the Stowe Fall Foliage Show.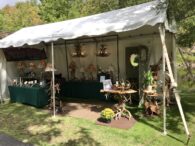 After a year away from the Adirondacks, I'm pleased to report that the 35th Adirondack Rustic Furniture Show will be held this year at the Adirondack Museum located in Blue Mountain Lake, NY !
Save the Dates! Saturday – Sunday, September 9 – 10, 10am – 5 pm.
You'll see unique interpretations of classic and contemporary rustic art presented in handcrafted furniture, furnishings, lighting and Adirondack paintings.!
Renowned artisans from all over the US will showcase and sell their one-of-a-kind creations during the event, discuss custom-made pieces, and answer your questions about their work.
Come and visit the Adirondack Museum and plan on spending the day admiring all the museum and vendors exhibits.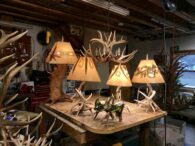 Yes, the shop is open by appointment only.  You can see the latest pieces I'm working on and view items available for sale in gallery above the shop. We can discuss your one of a kind create as well.
I'm located in Waitsfield, VT. Please Contact Me to schedule an appointment and for directions.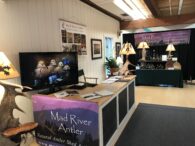 Since all my 2021 shows have been cancelled due to the pandemic, I decided to open a Pop-up showroom in my home town in the Mad River Valley. It's located next to the Mad River Valley Taste Place in Waitsfield, VT. 
Showroom Hours: Open every day 10am – 5pm – Presidents week ! Saturday 2/13/21 – Sunday 2/21/21.
I will also be taking custom appointments to fit your schedule for those who contact me directly.
All State of Vermont COVID-19 regulations will be followed.
Masks MUST be worn at all times and only 10 people in the store. If your not feeling well, please come another time. Social distancing will be followed and sanitizer will be available as well.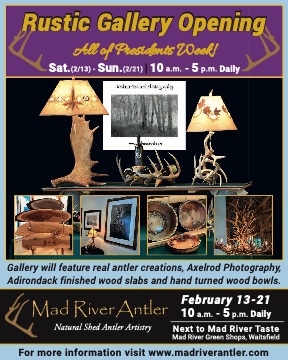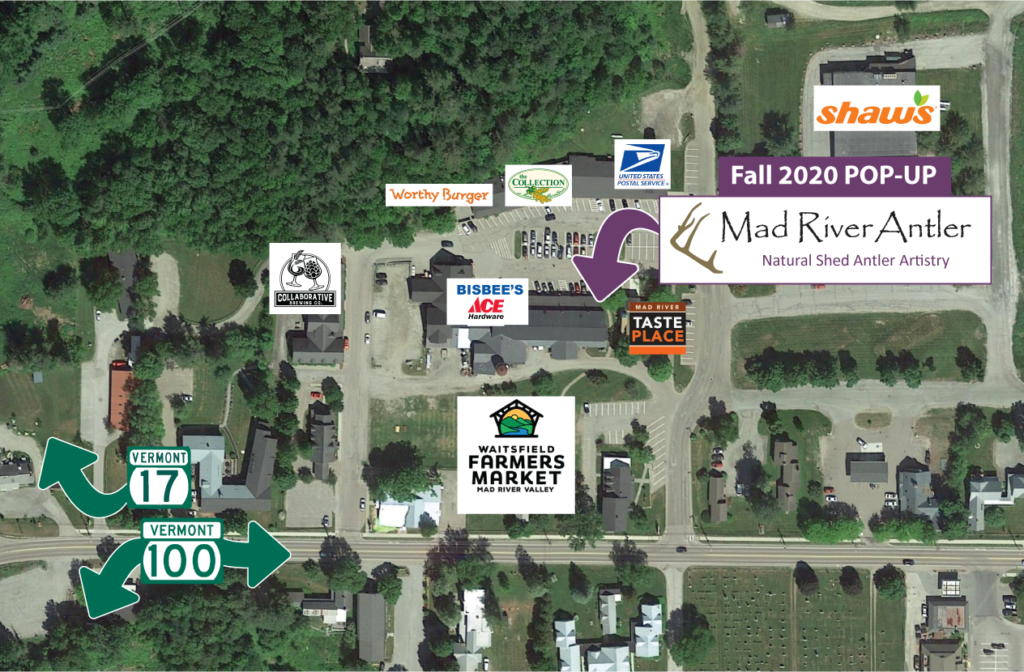 I kick off the 2020 Show season right in my back yard at Sugarbush Resort. It takes place Saturday, January 18 – Sunday, January 19, MLK Weekend!
I'll be joined with some awesome locals as well:)
Mad River Antler is on both Instagram and Facebook to get up to date info on shows and new creations.
I hope to see you there!
I've decided to attend the Northeast Woodworkers Showcase for the 1st time this April just over the mountains in Saratoga Springs, New York.
The 1st weekend of April show is at the Saratoga Springs City Center and features dozens of exhibitors from hardwood artists, to graphics & photography, speciality lumber to chainsaw carvers.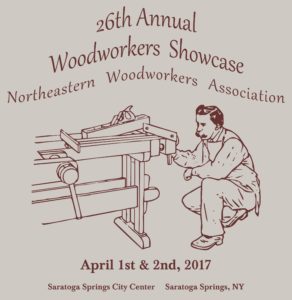 There are also 4 presenters who will be doing live demonstrations of woodworking techniques throughout Saturday and Sunday.
In addition, the Totally Turning 2017 exhibition will run concurrently at the City Center with 10 featured presenters demonstrating wood turning techniques.
I will be featuring new creations incorporating a host of hardwoods and real cool looking burls with naturally shed antlers from Moose, Elk and Deer.
So stop by on Saturday and Sunday, April 1-2. Feel free to come enjoy the show and talk antler artistry with me!
522 Broadway, Saratoga Springs, NY, USA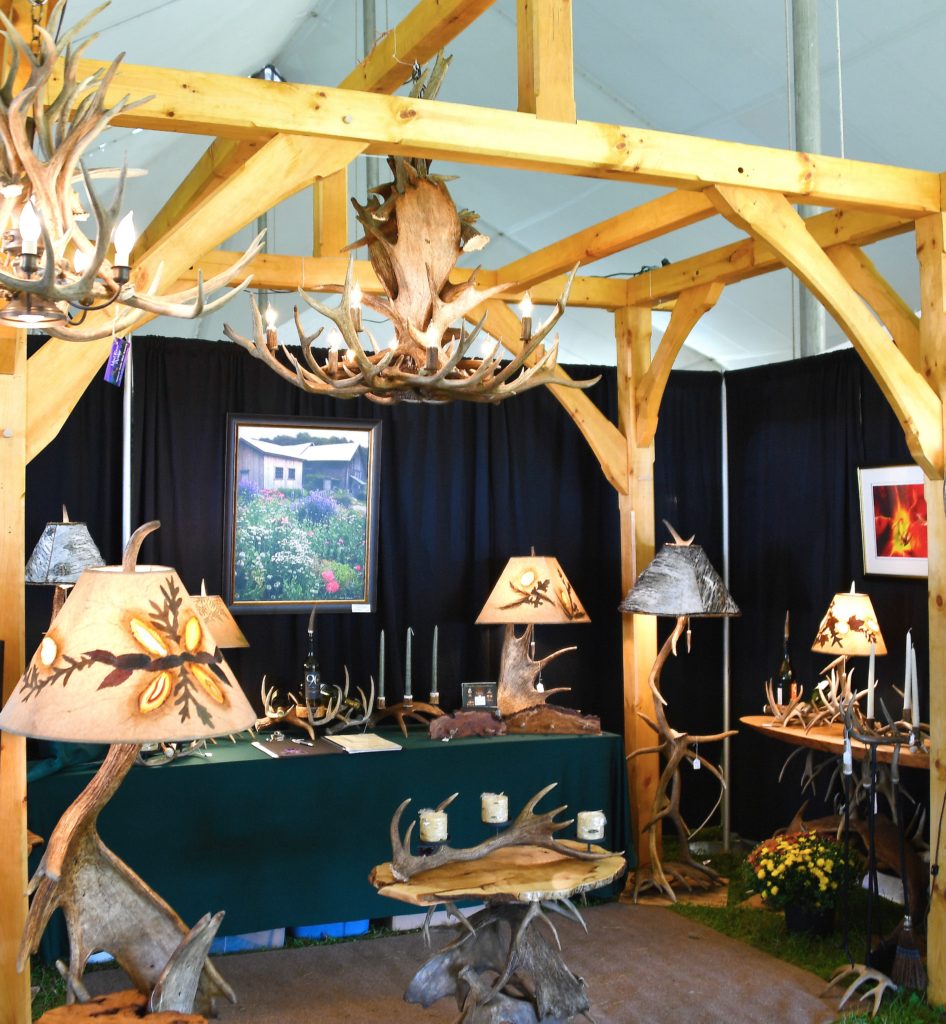 Visit us at the Adirondack Life Show July 12 – 14 at the Lake George Forum
2200 U.S. 9, Lake George, NY, USA
For the past 3 years, Sugarbush Resort has invited me and a few other local artists to display our work and talk to visitors coming for the holidays at their Lincoln Peak base area. This year is no different, although we have a lot more snow than we've had in the past few years.
So Friday night, I will be setting my display and antler work up at Timber's Restaurant for display Saturday and Sunday, February 18th & 19th, 2017 from 12p – 6pm both days.
I'm there to show off my latest creations, sell any if people are interested, and really just talk to people about the antler artwork I create. I often end up meeting new people and bumping into some old customers.
62 Gate House Lane, Warren, VT, USA