Moose Antler Sconces and Whitetail Antler Chandelier
This issue of Best of Central Vermont Magazine includes a great story about Moose Meadow Lodge. The article discusses how they got started and the imagery shows off their wonderful B&B and Vermont treehouse. Four years ago, I was thrilled when they asked me to help furnish their new treehouse with real antler art.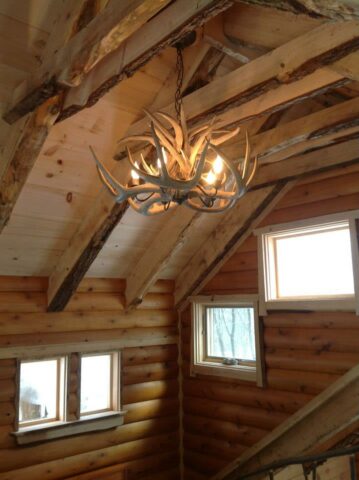 Interior Design
We discussed lighting choices for both the tree house and the remodeled kitchen. Co-owner Greg and I were in the future shell of the tree house, dealing with temperatures below freezing trying to come up with the right lighting solution for the entry/setting area and the 2nd floor bedroom. We decide on three moose sconces with 2 lights each with cedar shades on three of the walls on the lower level.
For the upstairs, Greg liked the whitetail chandeliers with acid washed cluster that gave it a rustic, but elegant look.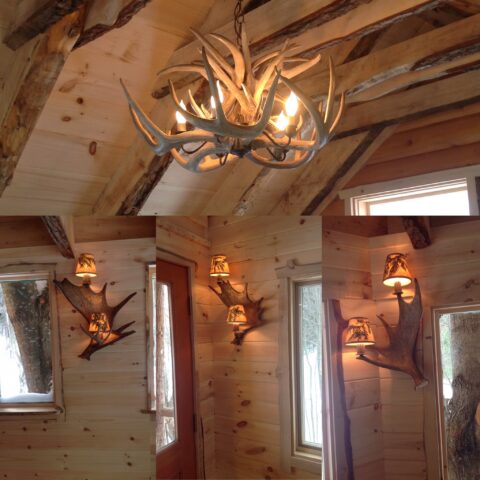 Now to the remodeled kitchen and warmer temperatures – Willie and Greg really liked the whitetail chandelier with downlight that I created. Their  hope was to have antler pull handles on the kitchen refrigerator doors, drawers and kitchen cabinets. I created the chandelier and supplied a number of antlers for all the handles within the kitchen which are visible in the magazine article.

Crafting
All the whitetail and moose antlers I used are naturally shed. I purchase them from reputable shed hunters here in New England and out west. No harm comes to the animal. The animals shed their antlers late winter and are usually harvested in early spring.
Want to learn more? Read all about the Moose Meadow Lodge in the Central Vermont online edition >