New Style Moose Antler Chandelier
I've always wanted to create a different type of moose combination chandelier by having the Moose antlers face downwards and incorporating hand painted glass shades for the lighting component. I struggled with the balancing issue at first which I figured out by redistributing and adding a few of the antlers. Since I only use real naturally shed antlers, that was a challenge.
I had the bottom tier nearly completed when I ran into Dino, the owner of an awesome local deli, Mutha Stuffers. He was looking for a centerpiece light fixture for a new restaurant he was opening in Sugarbush Village, in Warren, Vermont.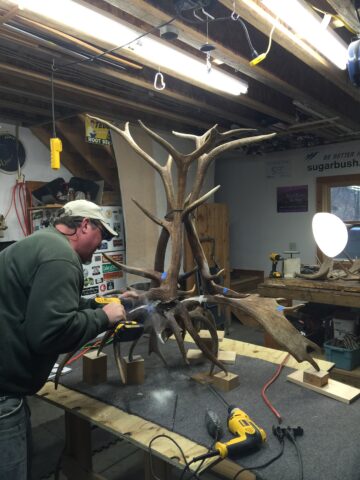 I invited Dino up to my shop to discuss what I can create and look at the piece I started. Dino noticed a few very large Elk antlers I was considering using on another piece I had been working on. He wondered if the tall elk antlers would work as vertical uprights on a moose antler base to hang over the bar of his almost open restaurant, The Reks. So I went ahead and figured it out.
I then added back and wired the stained glass with hand painted pine needles lights to get a feel for balance.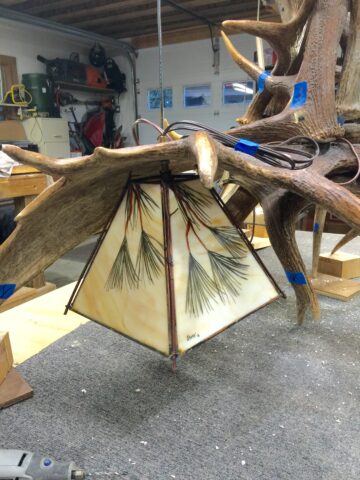 Lastly, to finish off the piece, I inserted some smaller Moose antlers to give it balance and to fill it out.
I sent pictures to Dino which he loved and scheduled delivery and install.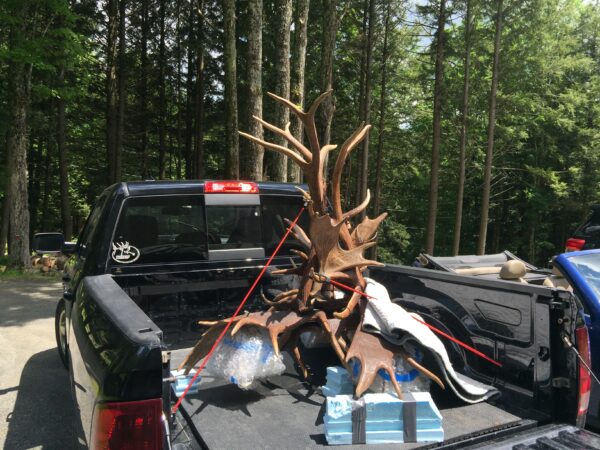 Dino had it installed as we were there. I was very proud of how it came out and how it looked over the refurbished bar at The Reks.