Key Features
Hand Crafted. Custom Order Only.
Materials
Real Moose, 8 real antler light covers, UL Components.
Dimensions
40″- 60″ diameter x 38″ – 58″ height
Cost
Please call/email to discuss sizing and cost.
Custom Created Piece. Contact Us to create one for your space.
This elegant moose chandelier is beautifully handcrafted from real Moose antlers that were naturally shed. It features real antler light sockets that were created one at a time. Truly a totally unique piece of art for the living area.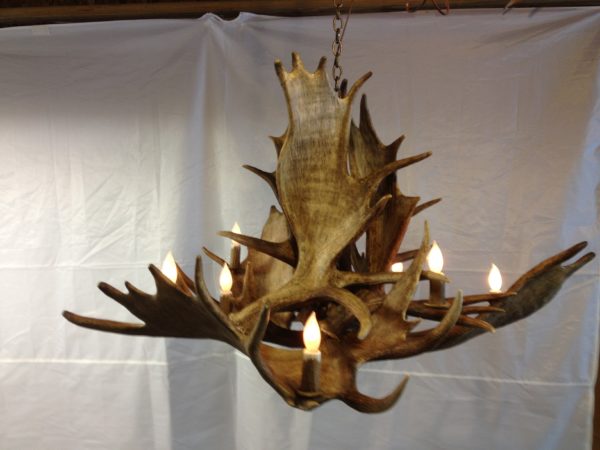 Each unique antler is carefully hand selected, crafted and sealed to enhance its beauty and character along with a profound love and respect for nature. Each Mad River Antler creation is individually handcrafted by artisan Ken Kenia in the heart of Vermont's Green Mountains. All Mad River Antler lighting is constructed with UL approved components and installed with the finest craftsmanship in the industry. We also provide custom creations to fit your needs.
Please note: this item is handcrafted per order. Since we only use real antler that has been naturally shed the item ordered may vary from the picture.